Seamless Productivity with Mouse without Borders
A Happi Hacker's Dream
Posted: 2023-06-21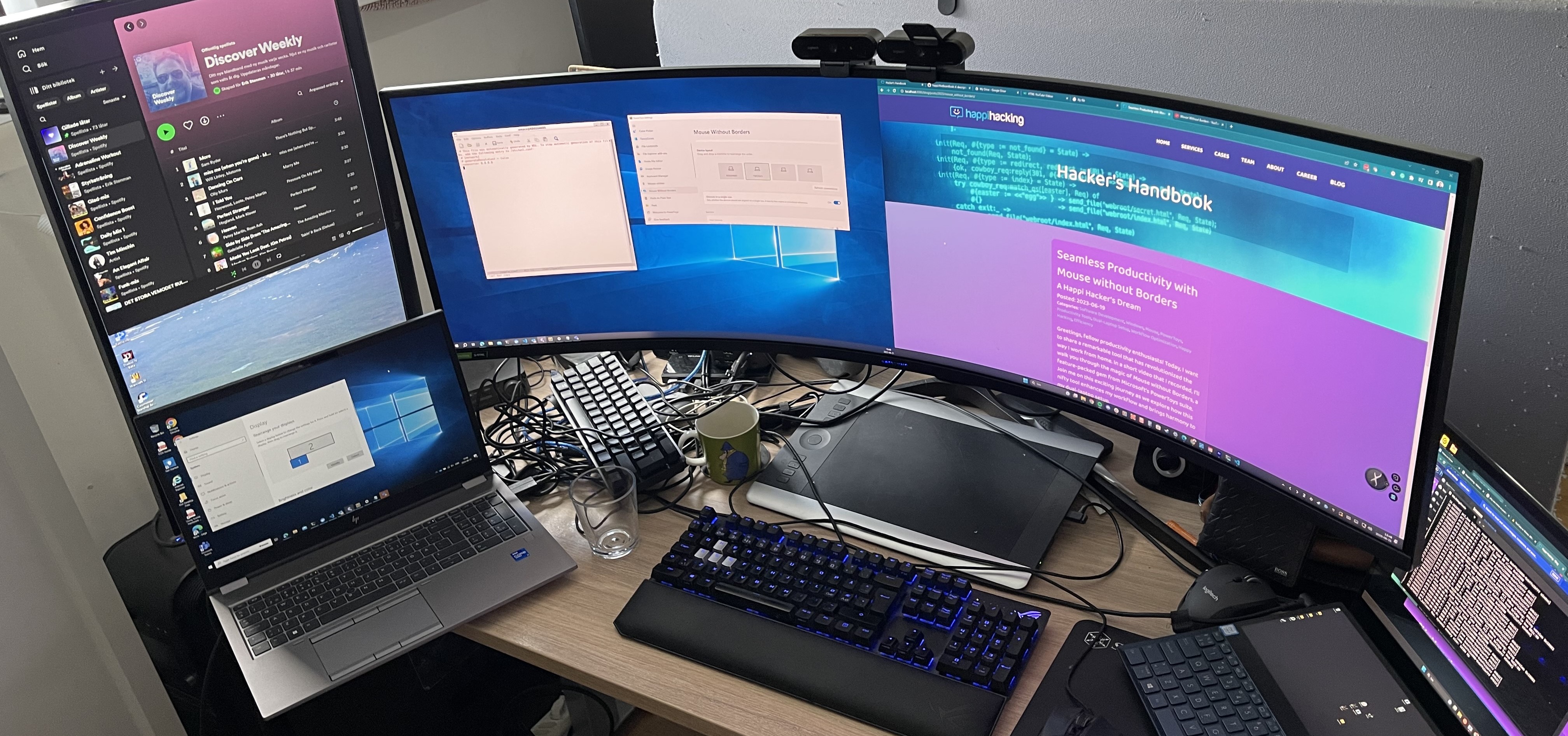 Greetings, fellow productivity enthusiasts! Today, I want to share a remarkable tool that has revolutionized the way I work from home. In a short video that I recorded, I'll walk you through the magic of Mouse without Borders, a feature-packed gem from Microsoft's PowerToys suite. Join me on this exciting journey as we explore how this nifty tool enhances my workflow and brings harmony to my dual-laptop setup.
In the video, you'll witness the seamless synergy between my trusty Happy Hacking laptop and my dedicated client laptop, gracefully displayed on my wide Samsung monitor. With Picture-in-Picture mode, I relish the joy of having two screens at my fingertips—a visual treat that fuels my productivity.
The Mouse without Borders enchantment takes center stage. As I move my mouse from my Happy Hacking laptop to my client laptop, the boundaries between the two dissolve. Thanks to this powerful tool, I effortlessly navigate between the realms of both machines. Whether I'm editing code in Emacs running on the Linux subsystem for Windows or swiftly copying and pasting between laptops, the ease of movement is simply unparalleled.
In this new era of hybrid work, where collaboration with both my company and my esteemed client is the norm, Mouse without Borders becomes my trusted companion. With the synchronization it brings, my two laptops merge into a harmonious workspace. A single mouse is all I need to traverse between my Happy Hacking laptop and my client laptop.
See for yourself in this video: